Are drooping eyelids not only an aesthetic problem for you, but also worsening your well-being and everyday functioning? Blepharoplasty is a surgical procedure, that will restore your youthful and healthy appearance around your eyes.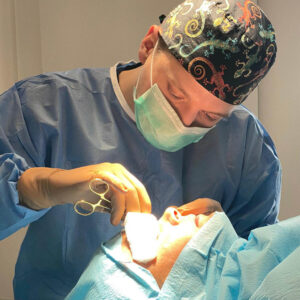 Blepharoplasty and eyelid lifting
Blepharoplasty (blepharoplasty of the lower or upper eyelids) is one of the most common surgical procedures performed on the face. The main task of this procedure is to correct the amount of skin and restore the proper tension of the tissues. As a result, the skin around the eyes regains its youthful appearance, contour and shape.
The surgery of the eyelids allows you to precisely get rid of the defects that cause the old and tired look of the eyelids, as well as the limited field of view and malaise.
However, if you want to avoid the scalpel, then check out our range of RENUVION treatments, using helium plasma.
Eyelid surgery in Poland - is it worth it?
Who is it for?
The blepharoplasty procedure is recommended for people with:
limited field of sight because of drooping eyelids,
upper eyelid levy muscle failure,
headaches, tiredness and a feeling of heaviness around the eyelids caused by their laxity,
fatty hernia,
excess skin around the eyes,
strongly developed circular muscles of the eye.
This method is also ideal for people who care about removing signs of aging around the eyes and who want to improve and rejuvenate the appearance of their face.
The procedure
The blepharoplasty is performed either under local anaesthesia or short general anaesthesia, and the procedure is performed in the operating room.
Surgical blepharoplasty involves making a precise incision and removal of excess skin on the eyelids, followed by laser shrinkage and plastic surgery of the circular muscles of the eyes.
The target scope and nature of the procedure is determined with the patient before starting the surgery. The entire procedure lasts from 45 minutes to 2 hours, depending on the extent and complexity of the eyelid defect.
The effects
Swelling and postoperative bruising disappears within 7-10 days, and the removal of stitches usually takes place on the 7th day after surgery. Full recovery after blepharoplasty takes about 10-14 days.
Visible effects are the reduction of changes, that are responsible for the tired and old look of the face around the eyes.
So, if you do not want to hide skin imperfections under sunglasses, then blepharoplasty is a procedure, that will restore your comfort of life!