The feeling that something has sucked water out of your mouth, sucks out your well-being and self-confidence? Or maybe it bothers you that your lips are too small, asymmetrical or have drooping corners? It can be changed! For everyone, because it is a treatment for everyone, not only for women! Learn how hyaluronic acid works.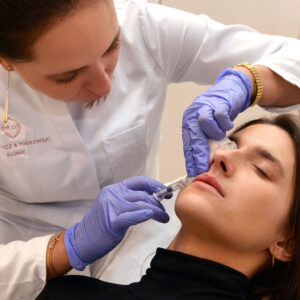 Lip augmentation and modelling with hyaluronic acid
Chapped lips are not nice. Even the best lipsticks and balms make the lips not look dry for just a moment.
Moisturizing your lips with hyaluronic acid is a one-time treatment that will free you from having to remember about constant lip care and make your lips firm all the time. But that is not all. Lip augmentation as well as modelling with hyaluronic acid are also popular.
Hyaluronic acid is a substance that naturally fills our lips, retaining water in them. Unfortunately, sometimes there is not enough of it or we lose it with age. The hyaluronic acid treatment will allow you to replenish this deficiency.
Lip augmentation in Poland, is it worth it?
The procedure
There is nothing to be stressed out about. Many people in the world of show business and the ordinary world are regularly subjected to the hyaluronic acid treatment. You will receive anaesthesia in the form of an anaesthetic cream. If you feel that this is not enough for you, you can ask for a dental anaesthesia. The procedure itself usually takes several minutes and consists in the local, subcutaneous injection of a small amount of hyaluronic acid using a very thin needle or cannula. The tool for the procedure is selected by the doctor depending on the effect of the procedure to be achieved.
The effects
For the first days after the hyaluronic acid treatment, your lips may not be in the best condition due to swelling or bruising, but later it will get better and you will start to notice the results of this substance more and more. Lip augmentation with hyaluronic acid in Warsaw or their contouring may last from 6 to 12 months.
The duration of the effects of hyaluronic acid treatment depends on your genetics, lifestyle and nutrition.
Beautiful, well-groomed lips? Hyaluronic acid. The most natural and safe way.