Baldness, thinning hair, hairless on top of the head or bends destroy the charm of your hairstyle? Get to know the FUE hair transplant method, which will prevent your hair from falling out, and ensure that they stay on your head! And even more!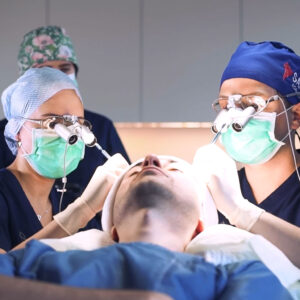 Hair transplant with FUE WAW DHI method
Bends, sparse hair, alopecia, excessive hair loss – these are typical problems that our patients are struggling with.
When other methods, such as changing the diet, supplements against hair loss or preparations for alopecia are not effective, the solution to the problem may be hair transplantation by using the FUE – Follicular Units Extraction – method.
FUE hair transplantation is the replacement of weakened hair follicles with healthy ones taken from a different, invisible area of the head. The treatment is used especially in the case of androgenetic alopecia and is highly effective, while other measures such as medications or rubs do not work.
Hair transplant in Poland, is it worth it?
Indications
If you are bothered by:
alopecia,
permanent hair loss,
high hairline,
problems with bends,
scars on the head,
eyebrow scars,
chin scars by men,
partial hair loss in intimate areas,
or similar problems, then the FUE hair transplantation is for you.
The procedure
A doctor, who deals with hair restoration surgery daily, will always qualify the patient for this procedure, if there are no medical contraindications. In this case, we will jointly set a convenient date for you.
Although the word "transplant" fuels fear, there is nothing to be afraid of. Especially when it comes to pain, as you will receive effective local anaesthesia. Do not be surprised if you are asked to lie on your stomach at the beginning – in this position, the hair follicles are most often harvested for transplant, after shaving off the hair in this part. Further, in a more comfortable sitting position, the collected bellows will be implanted in the so-called recipient area, which is also anesthetized separately.
The entire procedure is performed with a thin needle, and the procedure ends with the application of a special ointment to the skin and giving the patient a layette with preparations for washing and skin care after the procedure, along with recommendations for their use.
The effects
After the FUE transplant, your hair will grow back gradually. You can see their larger volume after about 4-6 months from the treatment, but you will enjoy full hair after about a year. Maybe it's a long time, but for good and permanent results it's probably worth waiting, right?
Before this happens, for the first 2 weeks after the procedure, you need to be careful with the transplant site. Be careful to not cause any damage around the implanted follicles. In some cases, swelling may persist on the skin for the first 3-4 days. It is also acceptable to lose hair about 1-2 months after the treatment, which does not mean that the treatment was unsuccessful.
Take an effective fight against baldness. We will be happy to help you with this. After all, lush hair equals beautiful hair!