Your skin has lost its firmness and volume? Are you looking for a way to effectively shape your face? The treatment using Barb 4D threads will be the perfect solution for you. Restore your face to the correct contour and enjoy a beautiful look.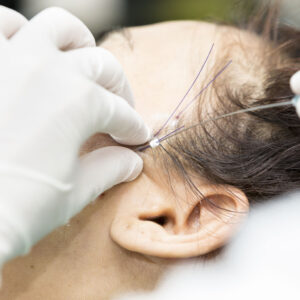 Face modeling with BARB 4D threads
The biostimulation treatment using the absorbed Barb 4D threads is a proven and non-surgical method that will allow you to get rid of the unpleasant effects of skin aging. Innovative threads with a system of microscopic hooks are made of polydioxane, which is absorbed by skin cells over time.
After the thread is implanted under the skin, the hooks open, smoothing your wrinkles and tightening the surrounding tissues. In addition, the hooks are placed densely around the thread in two directions, which guarantees their four-dimensional range.
Your skin becomes radiant, visibly firmer and tighter. Sounds tempting, right?
BARB 4D threads in Poland, is it worth it?
The procedure
30 minutes before the procedure, the selected area of ​​the skin is lubricated with a special anesthetic cream, so you do not have to worry about pain. The whole process, depending on the area of ​​the skin to be treated, takes from 30 to 60 minutes. Barb 4D thread implantation involves inserting them under the skin with a thin and sterile needle. Thanks to this, your skin remains almost intact during the treatment.
The effects
Immediately after the treatment, you may notice slight reddening of the skin, which is a completely natural phenomenon that disappears within a few days. However, you will notice the first effects of the thread implantation right after the procedure. In addition, after about 10-14 days, the collagen and elastin regeneration process takes place, which enhances the result. As a result, your skin will be firm and taut, and this effect lasts up to 240 days.
Ineffective treatments that do not bring the desired results are a waste of time and money. Face modeling with Barb 4D threads will fully meet your expectations.