Are your wrinkles ruining your mood? Are you looking for a safe way to get rid of this problem? You don't need to worry anymore. Filling wrinkles with hyaluronic acid will help you to reverse the age of your skin by a few years.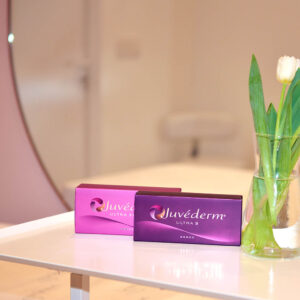 Hyaluronic acid and wrinkles
Hyaluronic acid is a natural component of the skin that keeps it firm and moisturized. However, with age, its amount gradually decreases, which makes your skin sagging and prone to dryness, and the first wrinkles appear.
However, you can reverse this process by using the treatment of filling wrinkles with hyaluronic acid preparation. The gel injected under the skin fills wrinkles and shapes its volume, thanks to which the obtained effect looks natural and satisfactory.
In addition, our clinic uses cross-linked hyaluronic acid of higher density, thanks to which the skin becomes smooth and moisturized for up to 12 months. Sounds tempting, right?
Filling wrinkles with hyaluronic acid in Poland, is it worth it?
The procedure
About 30-45 minutes before the procedure, your skin will be anesthetized with a special cream, thanks to which the procedure will be painless. We often perform the therapy without anesthesia, because some of the hyaluronic acid preparations we choose already contain lidocaine, which is a local anesthetic, in the pre-filled syringe. So you don't have to worry about anything. Depending on where the hyaluronic acid is injected, the procedure only takes about 30 minutes.
The gel preparation containing hyaluronic acid is injected with a very thin needle or cannula at different depths of the skin, depending on the results you want to achieve. Thanks to the use of pointed tools, you will only feel a slight prickle. The applied gel effectively binds water and replenishes the deficiency of hyaluronic acid in the skin and produces a filling, modeling and moisturizing effect. Your skin looks almost immediately better than before, and after about 7 days the traces of injections disappear.
The effects
You can see the results of the treatment in the mirror right after its execution. However, you must remember that the results obtained last from 9 to 12 months. After this time, natural acid degradation occurs in the skin. However, you can repeat the treatment without any problems.
So give yourself a wrinkle-free year by improving the effect at regular intervals. After all, it's worth taking care of your appearance.