Skin lesions such as warts, viral and seborrheic warts, overgrown sebaceous glands, sun-induced lesions, skin elastosis and fibromas spoil your appearance? Remember that they are not only an aesthetic problem, but also a health one. So remove unwanted skin changes once and for all! The eCO2 fractional laser will help you get rid of them irretrievably!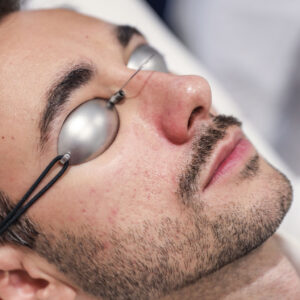 Removal of skin lesions with a eCO2 laser
The eCO2 fractional laser is an effective tool to help you get rid of unwanted skin lesions, such as warts or fibroids, which may be causing your anxiety.
The advantage of the procedure is to remove the lesion once and for all, so you don't have to worry about your problem anymore.
Removal of skin lesions using a eCO2 laser consists in evaporating water and shrinking the blood vessels at the point where the laser beam was directed. This solution avoids bleeding, as a small wound heals quickly.
Laser removal of skin lesions in Poland, is it worth it?
Indications
If your skin has:
fibromas,
viral warts (warts),
seborrheic warts,
hemangiomas,
piglets,
overgrown sebaceous glands
and other unsightly skin growths that bother you, then the eCO2 laser treatment is just for you!
The procedure
The entire procedure takes several minutes, depending on the size and type of skin lesion you intend to remove. In addition, you do not have to worry about pain, because you will receive local anesthesia, and the doctor will apply special cooling compresses after the treatment, to relieve the discomfort associated with burning and stinging.
The eCO2 fractional laser beam is directed by the doctor onto the selected skin lesion, causing the effect of "punching" and water evaporation. Thanks to this, your skin will mobilize to quickly regenerate and heal the area after the removed skin lesion.
The effects
Immediately after the treatment, your skin will experience swelling and redness, which are a completely natural and reversible result of the treatment. The exposed area should not be exposed to sunlight until it heals. After about 2-3 days, the epidermis at the site of the removed lesion will start to peel off. You will notice the full effect of the treatment after about 4-5 weeks, and its positive results intensify for almost 12 months.
Treat yourself to smooth skin without unsightly changes that cause your health concerns. It's worth taking care of your well-being.