Do you feel your body is swollen? Are you looking for a way to improve your well-being? There is a proven solution for this! Lymphatic drainage is a procedure that stimulates circulation and removes unnecessary metabolic products, thanks to which you will quickly feel better!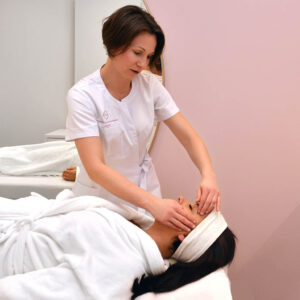 Acceleration of skin metabolic processes and lymphatic drainage
Lymphatic drainage is a form of massage that improves circulation in the body's lymphatic system.
This system drains excess fluid from areas around the tissues and transports the lymph to the lymph nodes, which filters and removes waste products such as damaged cells, metabolites, bacteria and toxins.
As a result, the skin becomes better supplied with blood, becomes supple, and you get rid of the feeling of heaviness and swelling. Sounds good right?
Lymphatic drainage massage in Poland, is it worth it?
Indications
If your goal is:
combating heavy leg syndrome,
getting rid of cellulite,
improvement of skin nourishment,
reduction of fatty swelling,
detoxification of the body,
prevention of varicose veins,
regeneration after liposuction,
as well as getting rid of unsightly bags under the eyes, the lymphatic drainage treatment has been created just for you.
Contraindications
The procedure
The manual lymphatic drainage treatment does not require any preparation by you and is very pleasant, so you do not need to undergo anesthesia. It involves a body massage, which allows you to unblock the lymph nodes, which are largely responsible for the cleansing process of your body. During the procedure, you can rest and relax, thanks to which the therapy can be treated as 30 minutes for the body and spirit.
The effects
Lymphatic drainage has the desired results if used consistently at regular intervals. Usually, 6 to 10 treatments are recommended, taking an average of 30 minutes.
Among the results that you will feel quickly are the stimulation of circulation and reduction of limb swelling, as well as a better feeling of getting rid of harmful waste products.
Your satisfaction will also be evoked by a significant reduction of cellulite and improvement of skin firmness and elasticity.
So if the feeling of heaviness and malaise effectively takes away your energy to act, a series of lymphatic drainage treatments will bring you a significant improvement.