Your skin is dry, dehydrated and dull, and no cream helps you? No worries! Needle mesotherapy is a treatment that will nourish your mature skin from the inside, and you will arouse admiration with a dazzling complexion!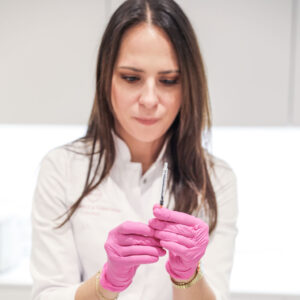 Skin rejuvenation and needle mesotherapy
Needle mesotherapy is one of the most effective treatments, improving the condition of the skin from the inside. Its secret lies in nutritional cocktails, individually selected to your needs, as well as in non-cross-linked hyaluronic acid, which is applied deep into the skin.
The treatment will naturally reduce your mimic wrinkles and stimulate the skin to regenerate, thanks to which it will become nourished, firm and more elastic.
In addition, the needle mesotherapy treatment protects the skin against sun rays, frost, wind and other weather conditions that have a negative impact on it. All of these effects last up to a year!
Needle mesotherapy in Poland, is it worth it?
The procedure
The procedure is performed under local anesthesia, so you do not have to worry about pain.
During its execution, a specially selected, nutritious vitamin cocktail is injected into your skin to a depth of 1-2 mm with the help of tiny needles. The type of nutritional preparation selected depends on your expectations.
If you are looking for hydration and nourishment, try preparations with hyaluronic acid, such as: Croma Rich, Restylan Vital Light, Skin Booster, Cytocere 135 Filorga, and Sunekos containing additional peptides.
The effects
You will notice the first effects of needle mesotherapy right after a session of 1 or 2 treatments. Initially, you will see slight bruises on your skin, which is a completely natural symptom that self-absorbs. Your skin will become softer, tighter and more moisturized.
In addition, the initiated skin regeneration processes make the effects of the treatment intensify even for several months. Remember that proper skin care will also make you enjoy the results for up to a year. You will get optimal results when you perform a session of 3-4 treatments at regular intervals and a treatment that maintains the effects every 3 months.
So, if creams applied externally do not improve the condition of your skin, then it's the right time to try the needle mesotherapy treatment.