Your skin has lost its firmness? Sagging is a natural process associated with the aging of the body, but it can be stopped! Lifting with the use of PDO threads effectively firms the skin and restores its younger appearance. Join the group of satisfied patients.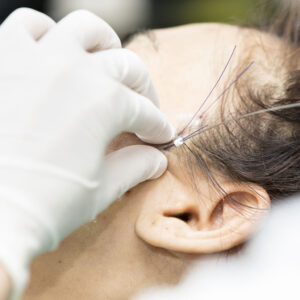 Skin lifting with PDO threads
Specialized PDO lifting threads are made of synthetic, soluble fibers with a homogeneous structure that prevents the multiplication of bacteria. The treatment with their use consists in smooth implantation of the threads under the skin, thanks to which your epidermis will not be damaged during implantation.
PDO threads gradually dissolve, stimulating the synthesis of collagen and fibroblasts, and stimulating skin cells to renew. Thanks to this, your complexion will become smooth and radiant, and unpleasant flaccidity of the skin will become only a bad memory. So PDO thread lifting is a proven firming method, will you try it?
PDO threads in Poland, is it worth it?
Indications
If your good mood is effectively spoiled by:
wrinkles,
nasolabial folds,
Crow's feet,
drooping eyelids,
chin fold,
puppet fold (puppet lines),
drooping cheeks,
as well as cellulite and signs of aging on the surface of the whole body, this lifting treatment with the use of PDO threads is just for you!
The procedure
Depending on the selected skin area, the PDO thread implantation procedure takes about 30 minutes. You do not need to worry about pain during it, because you will receive effective local anesthesia 30 minutes before it starts. The implementation of the thread is carried out with a sterile, thin needle, thanks to which your skin will not be damaged.
The doctor makes single punctures, during which the threads pass smoothly through the skin tissue. The only thing you can feel at this point are gentle pricks, comparable to acupuncture.
The effects
You will notice the first results of the procedure right after it is performed, but about 2-3 weeks after implantation, they will be more visible. In addition, you must remember that the skin begins to regenerate and stimulate new collagen fibers, so that the final effect will not appear until about 2-3 months after the treatment.
After this time, you can expect the most spectacular results that last for up to 2 years.
So if the effects of skin aging keep you awake at night and spoil your well-being, try the implementation of PDO threads. You will see that you will not regret it, .