Your hair falls out in handfuls? Take matters into your own hands and sign up for scalp mesotherapy as soon as possible! After all, a lush hairstyle not only looks good, but also reflects the good condition of your body!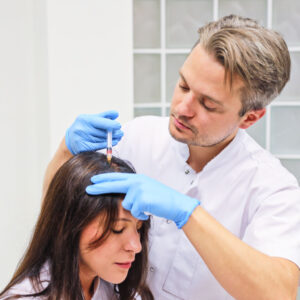 Scalp mesotherapy and alopecia
Rare hair, hair loss, difficulties with hair regrowth, hair after chemotherapy, damaged hair after attachments – these are the conditions for which dedicated dietary supplements or special care preparations are most often used.
What if vitamins and nutrients were injected directly where the hair starts, which is, into the scalp? This is what the mesotherapy treatment is about, the purpose of which is to immediately nourish and restore circulation to the scalp and stimulate the hair follicles.
Because there is no better way, than to attack the problem directly at the source!
Scalp mesotherapy in Poland, is it worth it?
The procedure
A doctor always qualifies for the procedure during a visit at the clinic. If there are no medical contraindications for its implementation, we will agree a convenient date with you.
The mesotherapy treatment is not that scary and does not require anesthesia. Then, the preparation is injected using a syringe with a very thin needle. A pleasant ending of the treatment – massage – is to help to evenly distribute the preparation in the skin. After the treatment, the skin may need several hours to regenerate.
The effects
Mesotherapy inhibits hair loss and stimulates it. Thanks to this, in addition to greater hair volume, you will also notice their better condition. The best results of mesotherapy are ensured by a series of treatments, the number and time intervals of which should be prescribed by a doctor.
Falling out hair? Keep your hair in good condition – keep it looking beautiful! The mesotherapy treatment will certainly help you with that!