No more ideas how to mask your atrophic scars from acne vulgaris, chicken pox or an injury? Now is the right time to get rid of them! The scar undercutting procedure is a very precise method, that allows you to shallow the scars if other methods have failed.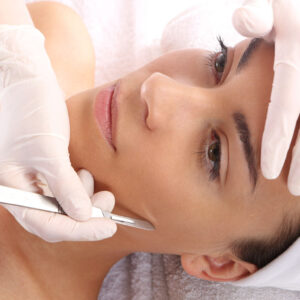 Surgical scar debridement
The scar cutting procedure is performed in order to reduce atrophic scars, which are an unpleasant reminder of inflammation caused by acne, chickenpox or other injuries. They arise because of the synthesis of connective tissue that grows to the surface of the skin and subcutaneous tissue in the area of ​​resolving inflammation.
The scar cutting method works especially well in the treatment of concave scars and is usually complementary to laser therapy or filling scars with hyaluronic acid. Together, these methods will allow you to significantly minimize the visibility of scars and reduce their depth, thanks to which your skin will become smoother and easier to care for.
Scar cutting treatment in Poland, is it worth it?
Indications
If you are bothered by:
acne scars,
post-traumatic scars,
chickenpox scars,
scars after incorrect steroid therapy,
as well as other atrophic scars, which are a serious aesthetic problem for you, then the surgical scar cutting procedure is just for you!
The procedure
The procedure is performed under local anaesthesia, so you do not have to worry about pain. Its time depends on the size of the lesion and the precision with which it must be performed by the doctor.
The therapy involves inserting a special needle or cannula under the collapsed scar and moving it in such a way, as to break down adhesions and separate the scar from the muscle fascia. The procedure is performed with great precision, which avoids injuring the tissues adjacent to the scar.
After cutting the scar, small bloody effusions form between the layers, stimulating the tissue to remodel.
The effects
Immediately after the procedure, swelling and bruising appear in the area of ​​the cut scar, which may persist for up to a week. However, 24 hours after the procedure, they can be covered up. The scar undercutting procedure ensures that the scar does not regrow with the muscle fascia. With the selection of appropriate deep tissue regeneration treatments, the scar becomes less noticeable and smoother. The treatment gives the best results in the case of rolling and boxar acne scars.
So, if you no longer want to look for a way to mask unsightly scars, opt for an undercutting treatment that will accelerate skin regeneration!