Your skin has become flaccid and has lost its firmness, which significantly worsens your well-being? Relax, there's a way out of this problem. Lifting with the use of Silhouette threads is an effective method that gradually rebuilds collagen fibers. Find out more about its effectiveness.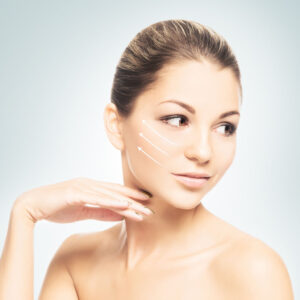 Modeling the face with Silhouette threads
Silhouette threads are a modern technique that allows you to pull up flabby facial tissues.
Thanks to the soluble material used, the use of the thread is safe, and the whole method is minimally invasive. By implanting the threads under the skin, you will get the effect of a smoother and improved face contour.
The treatment also allows you to initiate a several-month-long process of skin regeneration and the synthesis of new collagen fibers. You do have to wait for the results, but they are completely natural and satisfactory.
Face lifting with Silhouette threads in Poland, is it worth it?
The procedure
The procedure is performed under local anesthesia, so you do not have to worry about pain and discomfort during its performance. The whole process takes about 45 minutes, and a short recovery period allows you to return to your daily duties just 2 days after the procedure. The Silhouette sutures are inserted under the skin through a small incision in the temple area.
The effects
About 2 weeks after implantation of the thread, the skin regains its softness and natural appearance. Noticeable results will start to appear within the first year, when new collagen fibers are formed around the thread, responsible for lifting your skin and improving its tension. Although you have to wait a while for the results, they are completely natural, which will allow you to avoid malicious questions. What's more, according to experts, the effects last up to 4 years after the procedure.
So don't let sagging skin spoil your day. Decide for the treatment using Silhouette threads and forget about the signs of aging for a long time.