Are you worried about excessive hair loss? Are you afraid that your hairstyle will lose its thickness? It's time to do something! A trichoscopic examination allows you to determine the cause of hair loss and choose a treatment that will effectively stop baldness!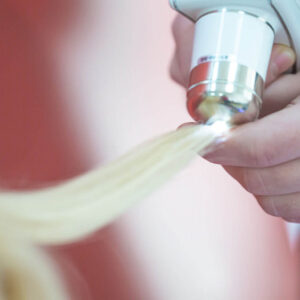 Hair loss and trichoscopy
There are different causes of excessive hair loss, and to stop it, you need to find out what's causing it. This is achieved by specialized tests, such as trichoscopy, performed with a specialized videodermatoscope.
At the OT.CO Clinic, we work with the FotoFinder device. So, if the correct diet, care and supplementation do not stop your hair loss, it's high time to investigate its cause. A videodermatoscope examination is the basic diagnostic method in the case of alopecia, which allows to establish an effective treatment.
Trichoscopy hair and scalp in Poland, is it worth it?
Indications
If you are tired of:
alopecia,
excessive hair loss,
thinning hair,
doubts about what hair care cosmetics to use to effectively prevent baldness,
doubts as to whether and what kind of baldness treatment to undergo,
or any other problem related to the topic of hair loss, then the trichoscopic examination is right for you!
The procedure
A trichoscopic examination is performed by using a trichoscope – a device that allows you to enlarge the area of ​​the scalp affected by alopecia and determine the type and causes of excessive hair loss. During the examination, 20- and 70-times magnification is used as a standard, in which the specialist looks at the front, tip and temple area of ​​the scalp. Based on the results of the examination, the doctor recommends the most effective method of treating alopecia.
The effects
The result of the study is an analysis of the problem of baldness and the selection of a solution that will most effectively stop your hair loss. After the trichoscopic examination, you will receive precise information about the causes of your baldness and ways to stop hair loss. For your own message, you can also receive a special report specifying the size and thickness of a single hair
Don't lose your hair or hope any longer. Also, do not waste your money on preparations against baldness or anti-hair loss drugs that are ineffective in your case. Do you want to effectively stop baldness? Don't hold back on signing up for a trichoscopy!