Do you suspect a skin allergy, but it is hard to determine what factor causes it? Relax, there is a solution. The patch test is a proven method, that determines the type of allergy. So, you know what you should avoid in the future.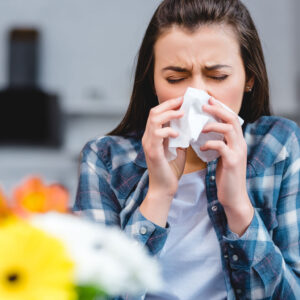 Diagnostics using a patch test
A patch test is a diagnostic method, which aims at detecting allergens, causing you troublesome skin symptoms. They are often performed, as a confirmation of the initial medical diagnosis, which helps to choose the right treatment. With the help of the test, you can also check substances, e.g. cosmetics, that are suspects for causing symptoms, such as redness, rash or itching.
In our clinic, you will perform standard tests, but also specific ones, tailored to your problem, e.g. allergies to metals or dental problems. The most common is a patch test for metals (chromium, cobalt, vanadium, titanium, molybdenum, nickel), preservatives, fragrances, drugs, adhesives, rubbers, synthetic and natural resins, dental materials and dyes.
Diagnostics using a patch test in Poland, is it worth it?
Indications
If your skin is prone to:
chronic, itchy changes,
redness and flaking
desiccation,
itching and skin blisters on the hands and feet,
rashes or blemishes,
seborrheic inflammation,
and you also suffer from undiagnosed, recurrent skin problems, that have been tiring you for years, then the patch test is made for you!
The procedure
The patch test is performed on the surface of your skin, of your back or thighs. The treatment is painless, so you do not have to worry about it. All you need is a little patience and avoiding physical exertion and washing the area during the test, so that the flakes do not fall off. The doctor starts the test, by applying allergens in the form of a paste to special patches.
Then the prepared dressing gets glued onto your back, approximately two centimetres from the patch containing a different potential allergen. The resulting skin reactions are checked 48, 72 and 96 hours after applying the dressing, because some allergens give delayed reactions after they had contact with your skin. During the testing, you may experience severe itching, which is associated with the contact of the used substance.
The effects
In order for the test results to be reliable, a positive and negative test is performed to determine the correctness of the results. During the test, the skin must not have visible signs of allergies, and the patient should not take oral steroids and antiallergic drugs at this time, as this may distort the result. After a successful testing, you know which chemicals you should avoid, and your doctor may start an appropriate pharmacological treatment.
So, it is not worth guessing what may cause your skin's reactions and unnecessarily eliminate various substances from your life. The patch test will tell you exactly what you are allergic to.