Are you worried about excessive hair loss? Are you afraid that your hair is losing its density significantly? Relax, we have a solution for that. Hair stem cells are collected from your own adipose tissue, they effectively stimulate new hair growth and inhibit their loss. So you don't have to worry about your hairstyle anymore.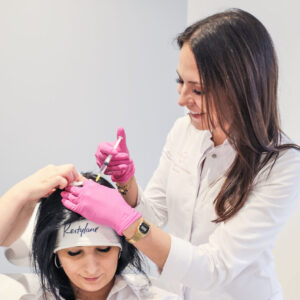 Hair loss and stem cells
Proper diet, proper hair care and taking supplements, unfortunately, are not always enough to stop hair loss. Sometimes you need to nourish the skin from the inside and stimulate the work of the hair follicles, and this can be achieved by the subcutaneous injection of stem cells derived from your own adipose tissue.
This material is therefore completely natural and does not cause allergies or intolerances. The power of stem cells is invaluable because they stimulate skin regeneration, increase its blood supply and stimulate hair growth. The result? After a series of treatments, your hair stops falling out and even starts to grow back!
Stem cells for hair in Poland, is it worth it?
Indications
If you are worried about:
excessive hair loss,
alopecia,
as well as worsening the condition of your hair, a treatment that uses stem cells for hair will help you.
The procedure
The procedure with the use of stem cells lasts from 30 to 60 minutes. However, you don't need to worry about the pain as you will receive local anesthesia. Thanks to this, the only thing you will feel is the discomfort associated with gentle pricks. The treatment consists of four consecutive stages:
Collection of adipose tissue from the area of ​​the abdominal fold or thigh and extraction of stem cells.
Collection of venous blood and centrifugation to prepare the material.
Activation of fat stem cells with collected and prepared blood.
Injection of the resulting preparation under the scalp affected by the problem of alopecia by the method of needle mesotherapy (insertion of small needles).
The effects
The results of the treatment appear gradually after its implementation, along with the regeneration and revitalization of the hair bulbs. An important feature of stem cells is the ability to divide, but for optimal results, it is worth carrying out a whole series of treatments at intervals of 4-6 months.
So instead of looking for an external method to stop hair loss, use a natural treatment with the use of stem cells. Satisfactory results are guaranteed!